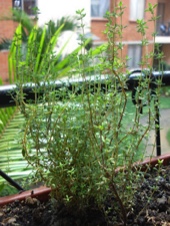 Thyme Thymus vulgaris
Thyme has for centuries been used as a culinary herb, ornamental plant, and medicinal. The stems are wiry and narrow, with evergreen leaves and dense purple, white, or yellow flowers. Highly fragrant, it can repel beetles and other garden pests.
WHERE IT CAN BE FOUND:
Southern Europe, Mediterranean, Delaware, Massachusetts, New York, Pennsylvania, and cultivated elsewhere
PROPERTIES AND USE:
Antibacterial, anti-inflammatory, antispasmodic, expectorant, carminative, and treats cancer, cold, bronchitis, whooping cough, earache, swollen tonsils, nausea, diarrhea, gum disease, sore throat. Boosts immunity and improves concentration.
TRADITIONAL PREPARATION:
For all conditions, pour 1/2 cup boiling water over 1 teaspoon dried leaves. Steep for 10 minutes. For coughs, repeat up to 3 times per day. For gum disease, swollen tonsils, sore throat, rinse the mouth and make a gargle with thyme essential oil and water.
Tomillo, Thymus vulgaris
Además de su uso culinario común en la preparación de carnes, sopas y granos, se ha empleado tradicionalmente como medicamento natural. A pesar de su efecto terapéutico en afecciones respiratorias, como antibacterial, y su acción anticonvulsiva, fungicida y antioxidante, no existen estudios suficientes que comprueben la inexistencia de efectos adversos en su uso oral y tópico, por lo tanto se recomienda usar en pequeñas dosis y con baja regularidad. Las hojas, tallos y flores contienen Timol, unos de los compuestos presentes en enjuagues bucales comerciales.