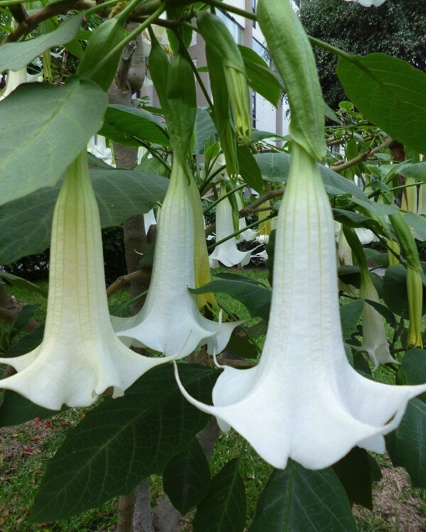 Brugmansia
Synonyms: Brugmansia Suaveolens, Datura Patient(s) administered: Nicola
Toé is an extremely powerful and potentially deadly plant used
by the Amazon's healers in a variety of applications. Its healing properties have been used to control Parkinson's disease; allevi- ate painful wounds, burns, rashes and swelling; or as a treatment for asthma and bronchitis.
The toé plant contains the plant world's highest alkaloid concen- tration, as well as a highly potent dose of scopolamine, resulting in intense and prolonged psychoactive experiences upon consump- tion. It is typically administered sparingly and in small, controlled doses, as improper use can result in irreversible mental damage or death.
¡Qué placentero es el perfume de las flores largas y acampanadas del yas cuando uno las huele por la tarde!
Esta planta, rica en… More alcaloides, se cultiva y se emplea, desde hace siglos o milenios, como medio psicoactivo en la región andina. Los indígenas advierten que esta planta no debe usarse imprudentemente, puesto que puede provocar fuerte alucinaciones y delirios. Se dice que solo los chamanes con mucha experiencia tienen la capacidad de utilizar el espíritu de la planta. La planta inflige severos castigos a cualquier persona que la trate sin respeto